Mount Rushmore
in the Black Hills region of South Dakota celebrates four revered American presidents: George Washington, Thomas Jefferson, Abraham Lincoln and Theodore Roosevelt. Their 60-foot granite faces are carved into the Mount.
If we had an
Olympia version
, entitled Mount Oympus, confined to just
Olympia competitors
, who would qualify?
Here are our picks for a men and women's version of Mount Olympus.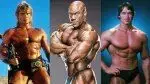 News
16 Greatest Physiques of All Time
Some of the best bodies we've ever seen.
Read article
Continue reading...